These things happened

Enemy was a DIY performance space and sound gallery in the Wicker Park neighborhood of Chicago that hosted numerous performances, workshops, and events between 2005 and 2012. This page is an archive of that time.

Enemy was:
• Jason Soliday (2005-2012)
• Eric Leonardson (2005-2012)
• Geoff Guy (2006-2009)
• Brent Gutzeit (2007-2012)
• Ryan Dunn (2010-2012)
• Omar Gonzales (2011)


Much of the information on this site was originally compiled for a chapbook entitled Enemy 1550 N MILWAUKEE AVE THIRD FL., 2012-2005, which was compliled and edited by Amelia Li Cavoli and Jason Soliday, and published by Holon in 2016. Printed copies may still be available from Sector 2337

Everyone involved with Enemy is still out there actively involved in creating and promoting weird sounds and visuals. Keep an eye out for all of them, and support good work where you find it…

Ben Syverson took the Enemy panorama photo above. The photo below is a live shot of Jon Mueller performing at Enemy in 2011, captured by J.Soliday.

This archive would not exist without the hard work, research, encouragement, and friendship of Amelia Li Cavoli. Much thanks to her and everyone who performed, presented, and/or helped us out in any way over the years!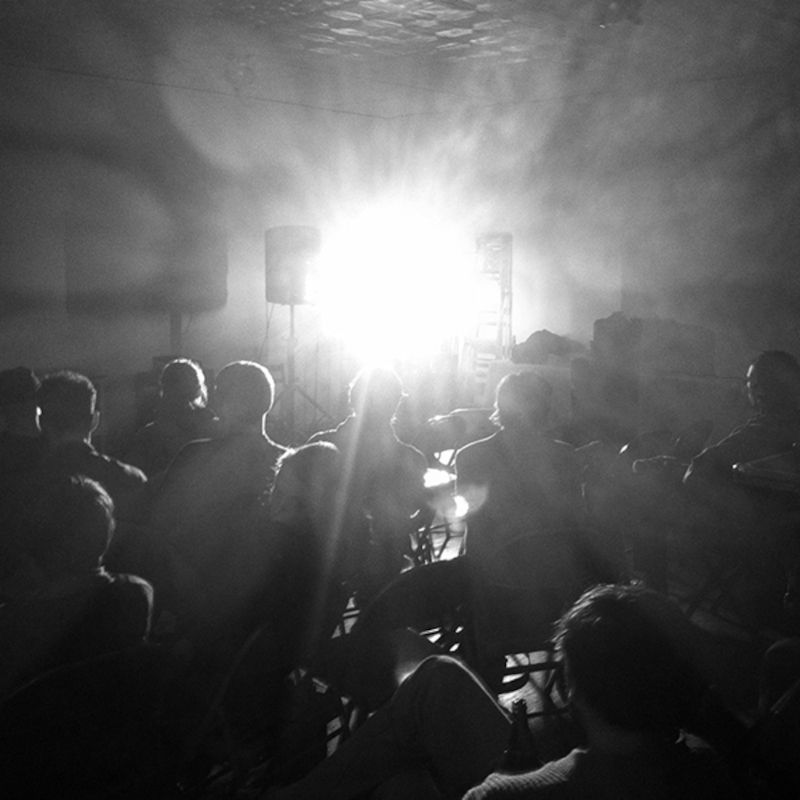 POST-ENEMY:

2014

Sunday, March 23, 2014
gmackrr; Jeff Kolar; Carol Genetti, Jim Baker

Saturday, March 22, 2014
Antonio Roberts, J. Soliday; ʝ⌡△✕✕✕5̶¥̶N̶; XTAL fSCK, gmackrr; Nick Briz; Antonio Roberts; yungPharaoh; Grayson Bagwell


2013

Saturday, December 14, 2013
Cotton Museum; Sick LLama; Andy Borsz; J.Soliday

Friday, July 26, 2013
Cleav'd Cleaver; Blood Transfusion; Piss Piss Piss Moan Moan Moan; Ben Baker Billington, Ryley Walker

Wednesday, May 29, 2013
Crank Sturgeon; PCRV; Vertonen; J. Soliday, Jon Satrom

Saturday, January 12, 2013
Aaron Dilloway; J. Soliday, Darin Gray; The Green Pasture Happiness; Exhumed Corpse (Sam Wagner)

Friday, September 14, 2012
KILT (Bob Bellerue, Raven Chacon, Sandor Finta); Green Pasture Happiness; Andre Foisy, Neil Jendon; The Subtraction



ENEMY:

2012

Friday, July 20, 2012
Jesse Kenas Collins; Daniel Fandiño, Jason Stein; J. Soliday, Brian Labycz

Wednesday, July 4, 2012
Nautical Almanac; Piss Piss Piss Moan Moan Moan

Friday, June 29, 2012
Opponents; Celebrator; J. Soliday

Friday, June 8, 2012
A. Bill Miller; Andy Ortmann; Cakefactory; Jon Satrom

Monday, May 14, 2012
Camilla Ha, J. Soliday, Thymme Jones; Piss Piss Piss Moan Moan Moan

Thursday, April 19, 2012
Disquiet Junto — Aroon Karuna; Erik Schoster, Jason Nanna, Wesley Charles Tank; Cinchel (Jason Shanley); J. Soliday, Michael Esposito; XYZR_KX (Jon Monteverde); Stringbot (Joshua Davison); Jeff Kolar, Kg Price; Ryan T Dunn

Tuesday, April 10, 2012
Radiant Husk; Flowerman; Masque

Thursday, April 5, 2012
Dorkbot Chicago — Anna Anthropy "Rise of the Videogame Zinesters: How Freaks, Normals, Amateurs, Artists, Dreamers, Drop-outs, Queers, Housewives, and People Like You Are Taking Back an Art Form"

Saturday, March 31, 2012
Enemy Fest — Mike Shiflet; Startless; Bile & Horseman; Hex Breaker Quartet; J.Soliday; Quicksails; Battleship; Bokeh

Friday, March 30, 2012
Enemy Fest — Daath Valley; Dog Lady; Reptile Worship; Tar Pit; Jason Zeh; Neil Jendon; Fanlab Duo; Plastic Boner Band

Friday, March 23, 2012
Pregnant Spore; Cincinnatus C; Phoned Nil Trio; Scant; Fatale; LKoP

Thursday, March 22, 2012
Chicago Scratch Orchestra: music of Pauline Oliveros; Sarah J Ritch; Julia Miller; Nomi Epstein

Friday, March 16, 9 2012
Le Cowboy; Joseph Kramer; Ben Boye; Ryan T Dunn

Saturday, February 25, 2012
Dorkbot Chicago — Matthew Heins

Friday, February 24, 2012
K.G. Price, T. Andrew Trump; KBD; Jen Karmin

Friday, February 17, 2012
Helen Gillet, Michael Zerang, Joshua Abrams, Monica Boubou; J. Soliday, Brian Labycz; Neil Jendon, Todd Carter

Friday, February 10, 2012
brekekekexkoaxkoax; Mythic Birds (Keefe Jackson, Jason Stein, Jeff Kimmel, Brian Labycz); J. Soliday, Michael Esposito

Friday, January 27, 2012
Trust Lost Music Series — The Spooky Action Ensemble (Dan Mohr, Jeff Kimmel, Cliff Ingram); TV Pow (Todd Carter, Michael Hartman, Brent Gutzeit); FanLab (Daniel Fandiño, Brian Labycz); Ryley Walker, Jeff Host

Sunday-Saturday, January 1-2, 2012
Medium


2011

Friday, December 9, 2011
Head-boggle; Forever Overhead (Brett Naucke, Andy Ortmann); Young Lady; J. Soliday, jonCATES

Thursday, December 8, 2011
Tearoom Trade; Abuse Patterns; Hate Basement; Magia Nuda; Christmas Woods

Monday, December 5, 2011
Drainolith; Nate Young; Ratatosk

Friday, November 18, 2011
A Fast Death in Slow Motion; Last King of Poland; Plastic Boner Band; Minnow

Saturday, November 5, 2011
GLI.tc/H Fest — Square Square; Vaudeo Signal; ARCANEBOLT; the Spunkytoofers Experience, A B i l l M i l l e r; GODXILIARY; mikrosopht; Minusbaby; Noé Cuéllar; Nullsleep

Friday, November 4, 2011
GLI.tc/H Fest — GLI.TC/H KARAOKE; stAllio!, Glitchard Nixon; Morgan Higby-Flowers; Cracked Ray Tube; I <3 Presets; J + C Feedback Factory (Carrie Gates, Jon Vaughn); James Jackman; Nicolas Maigret; Gabriel Menotti; Aaron Zarzutzki

Thursday, October 27, 2011
Dorkbot Chicago — Paul Hertz

Friday, October 7, 2011
Shinji Masuko; Solar Fox; Matchess; Ryley Walker

Thursday, October 6, 2011
Talking Computron; Ring Toss Twins; Tim Kaiser

Friday, September 30, 2011
Fred Lonberg-Holm, Aaron Zarzutzki; Breakway (Brian Labycz, Paul Giallorenzo, Marc Riordan); Pandava; Ssang Bang Wool Raiders

Friday, Sept. 23, 2011
Annette Krebs, Eric Leonardson; Brent Gutzeit, Aaron Zarzutzki; Jim Baker, Brian Labycz, Daniel Fandiño; Annette Krebs, Julia Miller

Tuesday, September 20, 2011
Bee Mask (Chris Madak); Drainolith; Pandava; Forever Overhead

Friday, Sept. 16, 2011
Jason Kahn; Jason Kahn, Mike Shiflet; Mike Shiflet, TV Pow

Friday, August 19, 2011
Nicole Miller; Quicksails; Plastic Boner Band

Friday, August 12, 2011
Myrmyr (Agnes Szelag, Marielle Jakobsons); Andre Foisy, Neil Jendon, Mike Weis; Holy Family

Saturday, August 6, 2011
Pharmakon; Deterge; Isa Christ; Cruudeuces; Personal Injury Lawyer

Friday, July 29, 2011
Nyodene D; Koufar; Shattered Hymen; J. Soliday

Saturday, July 16, 2011
Opponents; Liquid State Bypass; Instinct Control; Subtraction

Wednesday, July 6, 2011
Swan Ox; Sudden Oak; Kwjaz

Friday, June 17, 2011
Green Pasture Happiness (Daniel Fandiño, Brian Labycz, Aaron Zarzutzki), Fred Lonberg-Holm; Sound Beast (Carol Genetti, Anita Chari); KG Price; Joachim Badenhorst

Thursday, June 16, 2011
Mike Forbes, Andrew Scott Young; Pandava; Jacob Felix Huele, J. Soliday

Thursday, June 9, 2011
Jooklo Duo (Virginia Genta, David Vanzan), Bill Nace; Mysteres du Serpent; Cotton Museum; High School Confidential

Saturday, June 4, 2011
Pregnant Spore; Yello Crystal Star; J. Soliday

Friday, May 27, 2011
Skin Graft, Custodian; Pyrrhic Thanatology Monger; Insurgent; Machismo

Thursday, May 26, 2011
Dorkbot Chicago - Ben Baker-Smith, Evan Kühl

Friday, May 20, 2011
Lori Felker "Light Makes Music"

Sunday, May 8, 2011
John Mannion; Harass; J. Soliday

Friday, May 6, 2011
Strange Electronics 2 — Cracked Ray Tube (Kyle Evans, James Connolly); Battleship (Zachary Mark, Jeff Milam); Arcanebolt (Mark Beasley, Tamas Kemenzcy, Alex Inglizian); Monica Panzarino, Becky Grajeda, Emilie Crewe; Vaudeo Signal (Ben Baker-Smith, Evan Kuhl)

Friday, April 29, 2011
Corridors; Jon Mueller; Mind Over Mirrors; Michael Vallera

Wednesday, April 27, 2011
Rapoon; Promute; Illusion of Safety; Mykel Boyd

Thursday, April 21, 2011
Family Underground; The Subtraction; Swim Ignorant Fire; Neil Jendon

Thursday, April 14, 2011
Attila Faravelli; Liquid State Bypass; Green Pasture Happiness; Andrew Scott Young; Coppice

Saturday, April 2, 2011
Explode The Monkey #4 Chicago Edition — Ignaz Schick in duos with R Keenan Lawler, J Guy Laughlin, Jaime Fennelly, J. Soliday; Aaron Zarzutzki

Friday, April 1, 2011
Explode The Monkey #4 Chicago Edition — Ignaz Schick in duos with Eric Leonardson, Michael Hartman, Mwata Bowden; Aaron Zarzutzki

Thursday, March 31, 2011
Dorkbot Chicago - Joey Carr

Sunday, March 13, 2011
Seeded Plain (Bryan Day, Jay Kreimer); Eric Leonardson; Moldavite; Aaron Zarzutzki, Nick Hoffman; Pelzwik, Dinger, Talking Computron)

Friday, March 11, 2011
Forced Collapse (Chris Riggs, Liz Albee), Michael Zerang, Andrew Royal, Brett Nauke, Green Pasture Happiness; Brett Nauke; Fred Lonberg-Holm, Piotr Michalowski

Friday, February 25, 2011
Reptile Worship; Andre Foisy, Neil Jendon; Hate Basement; The Subtraction [Winters In Osaka II] (Omar Gonzalez, J. Soliday)

Thursday, February 24, 2011
Dorkbot Chicago - Nick Briz

Saturday, February 19, 2011
Z'EV; Robert Turman; Olivia Block, Lou Mallozzi; Startless (Jason Zeh, Blake Edwards)

Friday, February 18, 2011
Robert Turman; Olivia Block, Lou Mallozzi; Startless; Karl J. Paloucek

Thursday, January 27, 2011
Dorkbot Chicago — Philip Tibitoski, Devon Scott-Tunkin

Tuesday, January 25, 2011
Evil Spirits; Ratatosk; Lechuguillas

Tuesday, January 18, 2011
Christopher Preissing, Guillermo Gregorio, Jonathan Chen, Jamie Kempkers, Brian Labycz, Eric Leonardson

Sunday, January 16, 2011
Art's Birthday — Christian Pinnock; Christian Pinnock, Eric Leonardson, Guillermo Gregorio; Eric Leonardson, Guillermo Gregorio

Sunday, January 9, 2011
Teeny Bopper; Tension Fields; Hymnenesic Bilasic; J. Soliday; Magia Nuda

Saturday, January 1, 2011
Medium


2010

Saturday, December 4, 2010
Michael Thieke, Fred Lonberg-Holm, Jason Roebke, Aaron Zarzutski; Woody Sullender, Seamus Cater; J. Soliday, Ben Miller

Friday, December 3, 2010
Benjamin Miller; Dan Burke; Wyoming

Sunday, November 21, 2010
Deborah Stratman, artist talk

Thursday, November 18, 2010
Dorkbot Chicago — Chicago Botluck

Sunday, November 14, 2010
Id M Theft Able

Saturday, November 6, 2010
Karl Paloucek; Eric Lunde; Vertonen; Peter J. Woods

Friday, October 29, 2010
Acre; Tarr; J. Soliday, Ryan T Dunn; Alex Barnett

Thursday, October 28, 2010
Dorkbot Chicago — Alex Barnett

Friday, October 22, 2010
Andrew Royal, Paul Hartsaw, Carol Genetti; Auris (Julia Miller, Christopher Preissing, Eric Leonardson), Gino Robair; KBD

Thursday, October 14, 2010
Wasteland Jazz Unit; Heat Death (Ryley Walker, J Guy Laughlin, Jeff Host); Jason Stein Chicago Trio (Jason Stein, Devin Hoff, Frank Rosaly)

Tuesday, October 5, 2010
Bill Nace; Diagram A; Not The Wind, Not The Flag; Ryley Walker, Andrew Young, Ben Baker Billington

Sunday, October 3, 2010
Locrian; Pussygutt

Friday, September 24, 2010
Trust Lost Music Series — Extraordinary Popular Delusions (Mars Williams, Brian Sandstrom, Steve Hunt, Jim Baker); LSD (Brian Labycz, Vadim Sprikut); Marc Riordan, Daniel Fandiño

Tuesday, September 14, 2010
Corridors (Byron Westbrook); Cleared (Michael Vallera, Steve Hess); Brett Naucke; Duplicates (Ryan T Dunn, Joseph Kramer); Michael Vallera, David Daniell

Friday, July 30, 2010
Violent ARP Band; Drugs Dragons; Ken Camden; Ratatosk

Thursday, July 29, 2010
Dorkbot Chicago — Jodie Mack

Friday, July 2, 2010
Trust Lost Music Series — Singleman Affair, Unitard, Whisker Music; TV Pow, Michael Zerang

Monday, June 28, 2010
Cowards; Perispirit; Deterge; Battleship

Thursday, June 24, 2010
Dorkbot Chicago — Frank Wang Yefeng

Friday, June 11, 2010
Trust Lost Music Series — Elephant Micah; Cairo Gang

Sunday, June 6, 2010
Kyle Bruckmann; Rich O'Donnell

Friday, June 4, 2010
Climax Denial; Slow Owls; J. Soliday; Shattered Hymen; Vertonen

Tuesday, June 1, 2010
Dorkbot Chicago — Frank Yefeng Wang

Thursday, May 27, 2010
Trust Lost Music Series - Harmonic Convergence : Tetuzi Akiyama, Toshimaru Nakamura, Oyvind Lonnig, Espen Reinersen, Martin Tacks, Josh Abrams, Frank Rosaly, Brent Gutzeit, Todd Carter, Michael Hartman, Aaron Zarzutzki

Tuesday, May 25, 2010
Trust Lost Music Series — Seeded Plain, Maria Chavez, Will Soderberg

Saturday, May 22, 2010
C. Spencer Yeh, Anthony Decanini, Carl Calm; Wizard Hair

Tuesday, May 18, 2010
Trust Lost Music Series - Cairo Gang; Meander; Mark Trecka

Thursday, May 13, 2010
J. Soliday; Shattered Hymen; Sigulda

Friday, May 7, 2010
Zelienople, Xela; Altar Eagle; Caboladies; Scott Tuma

Thursday, April 29, 2010
Dorkbot Chicago — Brian Labycz

Saturday, April 24, 2010
Waveforms — Joseph Kramer; Kyle Evans; Aaron Zarzutzki, Michael Vallera; Saul Rojas, David Musgrave; Benjamin Chaffee; Joe Cruz; Stuart Schmidt; Aaron David Ross; Becky Grajeda; Ryan Dunn; 8 Ohm Danger Squad

Saturday, April 10, 2010
Festival Día 99 — IS; Fatale; Damsel in Distress; Hybrid Frequency, Valentina Correa; PTM

Saturday, April 3, 2010
Ignaz Schick; TV Pow (Todd Carter, Michael Hartman, Brent Gutzeit), Ignaz Schick; Ben Boye, Dave Miller, Quin Kirchner; Aaron Zarzutzki

Monday, March 29, 2010
Isa Christ, Kyle Clyde, Ratatosk

Thursday, March 25, 2010
Dorkbot Chicago — Brett Ian Balogh

Tuesday, March 23, 2010
Trust Lost Music Series — Jason Stein, Michael Forbes, Dan Fandiño, Aaron Zarzutzki; Seijiro Murayama, Brian Labycz, Ayako Kato; Seijiro Murayama

Saturday, March 13, 2010
Skin Graft, J. Soliday, Pyrrhic Thanatology Monger, Koufar

Saturday, March 6, 2010
Auris (Julia Miller, Christopher Preissing, Eric Leonardson); WUMMIN (Anita Chari, Andrew Royal)

Friday, February 26, 2010
Angel Eyes; Infinite Love; Reptile Worship; J. Soliday, Mike Golen

Thursday, February 25, 2010
Dorkbot Chicago — Mitchell F Chan

Friday, February 19, 2010
Z'ev; Travis Bird, Daniel Burke; Vertonen

Saturday, February 6, 2010
Skin Graft; Greenlander; Shattered Hymen; J. Soliday; Peter J. Woods

Saturday, January 30, 2010
Trust Lost Music Series — TV Pow (Todd Carter, Michael Hartman, Brent Gutzeit); Menthols (Justin Miller, Sean Barney); Especially Good

Thursday, January 28, 2010
Dorkbot Chicago - Thomas Bey William Bailey

Friday, January 1, 2010
Medium


2009

Friday, December 11, 2009
Trust Lost Music Series — Jim Dorling, Emmett Kelly, Michael Zerang; Breakway (Brian Labycz, Marc Riordan, Paul Giallorenzo); Spilter (Ben Boye, Quin Kirchner, Dave Miller)

Saturday, November 21, 2009
Tiger Hatchery; Ladyfriend (Daniel Fandiño, Brian Labycz, Graham Stephenson, Aaron Zarzutzki); Art Major (Graham Stephenson, Dave Barnes, Richard Kamerman, David Kirby); Reed Evan Rosenberg

Thursday, November 19, 2009
Dorkbot Chicago — David Vondle

Friday, November 13, 2009
Locrian; Harpoon; Chord; Ratatosk

Thursday, October 29, 2009
Dorkbot Chicago — Michael Esposito

Saturday, October 24, 2009
Trust Lost — D-RIDER; Illusion of Safety

Saturday, October 17, 2009
Brothers Peeesseye, Shawn E. Hansen; TV Pow; J. Soliday

Saturday, October 10, 2009
Lychgate; Ashes; Winters in Osaka; Bokeh

Sunday, September 27, 2009
EQUINOXIO:Ruido Latino Festival — Hybrid Frequency; Piss Piss Piss Moan Moan Moan; Its OK

Thursday, September 24, 2009
Dorkbot Chicago — Joe Hahn, Tyler St Clair

Thursday, September 10, 2009
Trust Lost Music Series — The Singleman Affair; Meander with Jim Becker; Dan Mohr

Thursday, August 27, 2009
Dorkbot Chicago - Rob Ray

Friday, August 21, 2009
Inca Ore, White Prism, Implex Grace, Mike Pitts

Friday, August 7, 2009
Human Hands; Magic Is Kuntmaster; Shattered Sunglasses; Terrors; Pussy Control

Friday, July 31, 2009
Eli Keszler; Ashley Paul; Weasel Walter, Mike Forbes, Andrew Scott Young; WUMMIN

Thursday, July 30, 2009
Dorkbot Chicago - Sandra Rosas Ridolfi

Sunday, July 19, 2009
Relentless Goat (David Russell, Wyatt Howland, Vadim Sprikut, J. Soliday); Skin Graft; José Luna; Alex Inglizian; Jake Elliott

Saturday, July 11, 2009
Christopher Riggs; Matt Endahl; Neil Jendon, Mike Weis; 727 Generator

Saturday, July 4, 2009
FREEDOM; Ratatosk, David Russell; Plastic Crimewave Sound; Stumble (Brent Gutzeit, Michael Zerang, Fred Lonberg-Holm); Sam Goldberg

Sunday, June 28, 2009
SL Makita; Fellaheen; Winters In Osaka

Saturday, June 27, 2009
Raglani Benefit — Magic Missile; Kevin Drumm, Vadim Sprikut; TV Pow, Joe Raglani; Tiger Hatchery, David Russell; Exercise; Face Worker; Piss Piss Piss Moan Moan Moan

Thursday, June 25, 2009
Dorkbot Chicago — Mark Beasley, Tamas Kemenczy

Monday, June 8, 2009
Trust Lost Music Series — Gregg Kowalsky; Ben Bracken; Brent Gutzeit

Sunday, June 7, 2009
Sudden Oak, SwanOx, Golden Sores, Bokeh

Thursday, May 28, 2009
Trust Lost Music Series — Eugene Chadbourne

Wednesday, May 27, 2009
Dorkbot Chicago — Alex Inglizian

Saturday, May 23, 2009
Gino Robair, group improvisation workshop

Saturday, May 23, 2009
Trust Lost Music Series — Uncle Woody Sullender; Relaxation Record; Adam Sonderberg, Joseph Clayton Mills

Wednesday, May 20, 2009
Joseph Raglani, Steve Hauschildt, Faceworker, TV Pow

Monday, May 18, 2009
Vic Rawlings, Steve Norton; Fear of Shit (Aaron Zarzutzki, Vadim Sprikut); J. Soliday

Thursday, May 7, 2009
Waveforms — Bethany Childs, Noé Cuéllar; Aaron Ross; Kyle Evans; Michael Vallera; Joe Grimm; Andy Armstrong; Aaron Zarzutzki, Daniel Fandiño; Tif Bullard; Ryan Dunn, Isabelle Schiltz; Mark Franz, Max Alexander; Bret Schneider; Joseph Kramer

Monday, May 4, 2009
Ajilvsga; Scott Tuma, Mike Weis; Uneven Universe

Friday, May 1, 2009
Magic is Kuntmaster; Ratatosk; Shattered Hymen

Thursday, April 30, 2009
Dorkbot Chicago — jonCates, Jake Elliott; Todd Bailey

Friday, April 17, 2009
Ben Hall, Wally Shoup; Chris Riggs; Fred Lonberg-Holm, Jaimie Branch, Anton Hatwich, Johnathan Crawford; Mike Forbes, Andrew Scott Young; Spam Filter (Ben Boye, Quin Kirchner, Dave Miller)

Saturday, April 4, 2009
Trust Lost Music Series — Daniel Higgs; Bill Nace; Tim Kinsella

Sunday, March 29, 2009
The Human Quena Orchestra; J. Soliday, Neil Jendon

Saturday, March 28, 2009
Eric Leonardson, Daniel Fishkin; Green Pasture Happiness (Aaron Zarzutzki, Daniel Fandiño, Brian Labycz)

Thursday, March 26, 2009
Tom Greenwood, Ron Burns, Chris Johanson; Barr; Lichens; Brendan Fowler

Friday, March 20, 2009
Monsters of Pot; Peacemaker; Winters in Osaka, J. Soliday; Face Worker; James Earl Drones

Monday, March 16, 2009
Slither; New Pledgemaster; Steve Kinney

Saturday, February 28, 2009
Evidence; Vertone; Katchmare; Eric Leonardson, Bryan Day

Friday, February 27, 2009
Scarcity of Tanks; ONO; Mike Forbes, David Russell, Andrew Scott Young; Ben Baker Billington, Jeff Host; Neil Jendon

Thursday, February 19, 2009
Mossy Throats; Body Collector; J. Soliday; Faceworker

Friday, February 6, 2009
Trauma; Dave Reminick; Plastic Crimewave; Mike Forbes, Andrew Scott Young; J. Soliday, Vadim Sprikut

Sunday, January 25, 9 2009
Meander; Mark Trecka; Dan Mohr

Friday, January 16, 2009
Jason Zeh; KBD; Ratatosk

Thursday-Friday, January 1-2, 2009
Medium; Chicago Phonography


2008

Saturday, December 13, 2008
Trust Lost Music Series — The Cairo Gang (Emmett Kelly, Josh Abrams, Ryan Rapsys, Sam Wagster); Lichens (Robert A A Lowe); Tim Kinsella; Mark Trecka

Friday, December 12, 2008
Trust Lost Music Series — Stumble (Fred Lonberg-Holm, Michael Zerang, Brent Gutzeit); Astro Bats; Skin Crawl (Brett Naucke, Vadim Sprikut)

Monday, December 8, 2008
In Realtime: CRABS & LOBSTERS — Alejandra Abad; Colin Adams; Dan Fandino; Adrien Imparato; Angie Kang; Eunkyo Kang (a.k.a Gyoya b.k.a E.K); Bubs Lumetta; Adrean Mangiardi; Jorge Minano Ramirez; Nina Rukavchenko; Aaron Zarzutzki

Saturday, December 6, 2008
Outer Space; Tanked; J. Soliday, Ben Baker Billington; Jenny Graf; Face Worker

Saturday, November 22, 2008
Antiques; Unlucky Atlas; Douglas Ferguson; Bokeh (Mykel Boyd, Mandy Matz); We Are Hex

Wednesday, November 21, 2008
Eric Leonardson, Linda O'Keefe, Guillermo Gregorio

Thursday, November 20, 2008
Jeff Parker, Fred Lonberg-Holm; Whisker

Sunday, November 9, 2008
Jason Zeh; Startless; Vertonen; Adam Strohm

Friday, November 7, 2008
Olivia Block, Adam Sonderberg, Christian Weber; Asimina Chremos, Carol Genetti, Aaron Zarzutzki; Joseph Clayton Mills, Jason Stein

Thursday, November 6, 2008
Paul Metzger; Tim Kaiser; Green Pasture Happiness

Friday, October 31, 2008
Piss Piss Piss Moan Moan Moan; Anthony Decanini; Ratatosk (J. Soliday, Ben Baker Billington); Bonhommes Sept-Heures (Andre Foisy); Snake Charm; Slave Trade (Brett Naucke)

Sunday, October 12, 2008
Unlucky Atlas; Auris; Bokeh (Mykel Boyd, Mandy Matz); Whisker

Saturday, October 4, 2008
Maths Balance Volumes; Weyes Bluhd; De Fenestra; Golden Sores

Friday, August 29, 2008
Consumer Electronics; Locrian; Bloodyminded; Neil Jendon

Friday, August 22, 2008
Illusion of Safety; TV Pow; Mykel Boyd; Vertonen

Friday, August 8, 2008
Bad Party; VIKI; Extreme Animals; Fortress of Amplitude

Saturday, August 2, 2008
Animal Law; Menthols; ssseeepage; Sexual Freedom

Friday, August 1, 2008
Bryce Beverlin II; Anthony Decanini; Piss Piss Piss Moan Moan Moan; Hybrid Frequency

Thursday, July 17, 2008
Hunted Creatures; Tusk Lord; Chris Niels; Will Soderberg

Saturday, July 12, 2008
Sic Alps, Wet Hair, Magic Missile, Druids of Huge

Saturday, June 28, 2008, 8:30PM
New Pledgemaster; Evenings; J. Soliday, Mark Solotroff; Winters In Osaka; Quetzalcoatl

Saturday, June 21, 2008
Karlheinz; Silvum; Sharpwaist; Stillbirth; Mark Solotroff

Friday, May 23, 2008
Hiroshi Hasegawa, Mike Shiflet, J. Soliday; Astro (Hiroshi Hasegawa); TV Pow; Peaking Lights; Peter J Woods; Vertonen; Mykel Boyd

Friday, April 11, 2008
Craig Baldwin; I <3 Presets

Saturday, April 19, 2008
Noise Movie Night — Voice Crack; C.C.C.C.; Sir Richard Bishop

Friday, April 4, 2008
ENEMY PROTESTS HEAVEN — zeropoint; Audrey Chen, Frederic Blondy

Wednesday, March 26, 2008
Michelle Webb; Mykel Boyd; Magic Missile (J. Soliday, Geoff Guy, Jon Satrom)

Tuesday, March 25, 2008
Hiroshi Hasegawa, Kevin Drumm, J. Soliday; Goat; Mike Shiflet

Saturday, March 22, 2008
Squid Fist; Blood Waterfall; Sexual Freedom; J. Soliday, Anthony Decanini

Thursday, March 20, 2008
Trust Lost Music Series — Steven Hess; Jaimie Branch, Marc Riordan; Brent Gutzeit

Sunday, March 16, 2008
Howard Stelzer; Illusion of Safety; Shattered Hymen

Friday, March 14, 2008
Tusco Terror; Sam Goldberg; Panicsville; Treetops

Thursday, March 6, 2008
Trust Lost Music Series — Call Me On The Allophone; Flux Bouquet

Friday, February 29, 2008
Justice Yeldham; Panicsville; Is; Miracle Worker

Friday, February 22, 2008
Trust Lost Music Series —Chris Connelly; Relaxation Record

Saturday, February 9, 2008
Praying For Oblivion; Mike Pitts; Thee Psyontologists; Ken Rei

Thursday, January 31, 2008
Trust Lost Music Series — Jaimie Branch, Marc Riordan; Relaxation Record

Thursday, January 10, 2008
Trust Lost Music Series — Vertonen; Brent Gutzeit, Aaron Zarzutzki

Saturday, January 5, 2008
Maths Balance Volumes; Folk and Violence; J. Soliday

Tuesday, January 1, 2008
Medium


2007

Saturday, December 22, 2007
Aram Shelton, Fred Lonberg-Holm, Brian Labycz, Todd Carter, Keefe Jackson, Toby Summerfield, J. Soliday, Jason Roebke

Saturday, December 15, 2007
Pukers; Binges; Treetops; Druids of Huge

Friday, December 14, 2007
Michael Graeve; J. Soliday; Terence Hannum

Saturday, December 8, 2007
HARDCODED — Alex Inglizian, Mark Beasley, Cassandra Rosas; Jake Elliot; Marisa Plumb; Temporary Services; criticalartware; Mark Beasley; Paul Hertz; Valerie Brewer; Professor Pangaea; The Chicago Hacked Hardware Orchestra; criticalartware, Morgan Higby Flowers; I <3 Presets; Jamie Villarreal; Ezequiel Netri; Lalo Melendez; Sebastian Bojorge

Friday, December 7, 2007
In Realtime — JoonWoo Ahn; Eileen Doyle; Colin Moneymaker; Dain Oh; Stuart Schmidt; Jordan Stefanelli; Ben Carney, Chris Hite; Morgan Higby-Flowers, Brendan Pete

Thursday, December 6, 2007
Trust Lost Music Series — TV Pow Ensemble (Todd Carter, Brent Gutzeit, Michael Hartman), Jaimie Branch; Courtland Green; Dante Carfagna; J. Soliday; Josh Abrams; Jason Roebke; Jim Dorling; Aaron Zarzutski; Tim Kinsella; Geoff Guy; Brian Labycz; Vadim Sprikut

Thursday, November 29, 2007
Trust Lost Music Series — Whisker; Softbeater (Frank Rosaly)

Wednesday November 14, 2007
A Night of Patches — LoVid (Tali Hinkis and Kyle Lapidus); I <3 Presets; Abduction

Thursday, November 15, 2007
Dead Wolf Black; Impregnable; Acre; Adam Sonderberg

Thursday, November 8, 2007
Trust Lost Music Series — Relaxation Record, David Daniel

Wednesday, November 7, 2007
Demons; Vertonen; J. Soliday, Mark Solotroff

Sunday, November 4, 2007
Redemer; MAG; Plastic Boner Band

Thursday, October 25, 2007
Trust Lost Music Series — Jason Roebke; New Fracture Quartet (Tim Daisy, Jaimie Branch, Nate McBride, Dave Miller)

Saturday, October 13, 2007
Trust Lost Music Series — Ayako Kato, Josh Berman, Jason Roebke; Liz Payne's Zoowheel

Sunday, October 7, 2007
Envenomist; Mark Solotroff; Mykel Boyd; Winters in Osaka

Friday, October 5, 2007
Joshua Manchester, Aaron Zarzutzki; Birgit Ulher, Eric Leonardson

Thursday, October 4, 2007
Trust Lost Music Series — Tim Kinsella, Josh Abrams

Saturday, September 29, 2007
Hive Mind; Oakeater; Joseph Raglani; Glass Bath

Thursday, September 27, 2007
Nautical Almanac; I <3 Presets; Magic is Kuntmaster; 0ur080r05 (Jon Cates, Jake Elliott)

Thursday, September 20, 2007
Platform; Friction Brothers; Shelf Life; Adam Strohm

Saturday, August 25, 2007
Mora (J. Soliday, Philip von Zweck, Brent Gutzeit); Mykel Boyd; Terence Hannum

Thursday, August 23, 2007
Fat Worm Of Error; Lovely Little Girls; Youth of the Beast; Animal Law (J. Soliday, Geoffrey Alan Guy, Dylan Posa, Mark Solotroff, Blake Edwards)

Saturday, August 11, 2007
Number None (Mike Tamburo, Ben Vida), Ctephin; The Gray Field Recordings; Andy Ortmann, Brent Gutzeit

Saturday, July 14, 2007
Raccoo-oo-oon; Binges (Anthony Decanini, Chris Robert); Druids of Huge (Ben Baker Billington, Brett Naucke, Jon Lyons)

Thursday, July 5, 2007
J. Soliday; Mykel Boyd; Francisco Lopez

Friday, June 15, 2007
BRN; 2673; Jenny Haniver; Adam Strohm

Thursday, May 24, 2007
Jason Talbot; Vertonen; J. Soliday, Mark Solotroff; Is

Friday, May 11, 2007
On (Sylvain Chauveau, Pierre-Yves Macé, Stephen Fiehn, Steven Hess); Ayako Kato, Jason Roebke, Brian Labycz; Carol Genetti, Neil Jendon, Eric Leonardson; Vertonen

Wednesday, May 9, 2007
Thai Horse; Vertonen; Magic Is Kuntmaster

Friday, April 27, 2007
Anchor (Frank Rosaly, Matt Schneider); zeropoint (Robb Drinkwater, J. Soliday); Aaron Zarzutzki

Wednesday, April 18, 2007
Z'EV; Illusion of Safety

Thursday, April 5, 2007
Neil Feather; Eric Leonardson

Sunday, April 1, 2007
David Gross; Jerry Bryerton; Jason Roebke

Friday, March 30, 2007
J. Soliday; Eric Leonardson; Jim Baker; Straylight (Geoff Gersh, Charles Cohen, Jason Finkelman)

Friday, March 23, 2007
San Agustin; Riggs, Sternhagen, McCormack Trio

March 17, 2007
zeropoint; LSD; OUR080R05

Wednesday, March 14, 2007
Brian Labycz, Jason Roebke, Vadim Sprikut; Michael J Schumacher

Friday, March 9, 2007
Demons; Dead Machines; Failing Lights; J. Soliday, Mark Solotroff; Vertonen

Sunday, February 18, 2007
Goldblood; Locrian; Thee Bastard Swords

Saturday, February 10, 2007
Redglaer; Shattered Hymen; Burrow; J. Soliday

Saturday, January 20, 2007
Vertonen; Adam Strohm; Illusion of Safety

Wednesday, January 17, 2007
J. Soliday; Carol Genetti; Dave Smolen

Friday, January 12, 2007
Haptic (Steven Hess, Joseph Mills, Adam Sonderberg), Mark Solotroff

Thursday, January 11, 2007
Labycz Sprikut Duo (Vadim Sprikut, Brian Labycz); Architeuthis Walks On Land (Amy Cimini, Katherine Young); Son of Gunnar, Ton of Shel (Aram Shelton, Steini Gunnarson)


2006

Saturday, November 25, 2006
Crippled Insectual; I <3 Presets

Monday, November 20, 2006
Ben Miller / degeneration

Saturday, November 18, 2006
Peter Brötzmann, Jeb Bishop, Frank Rosaly, Tim Daisy, Ingebrigt Flaten, Kent Kessler; Shot x Shot (Dan Capecchi, Matt Engle, Bryan Rogers, Dan Scofield)

Thursday, July 20, 2006
CANCELLED; Tabadol Project (Gene Coleman, Charlotte Hug, Michael Zerang, J. Soliday, Todd Carter, Michael Hartman)

Saturday, July 15, 2006
Aram Shelton, Jake Danzinger; Aram Shelton, Jason Roebke

Thursday, June 29, 2006
Religious Knives; Zodiac Mountain; Harrius; J. Soliday, Mark Solotroff; Locrian

Saturday, June 17, 2006
Andrew Lafkas, Brian Eubanks; Haptic (Steven Hess, Joseph Clayton Mills, Adam Sonderberg), Jason Stein

Friday, June 16, 2006
Illusion of Safety; Diagram A; Snake Charm

Thursday, June 8, 2006
Fred Lonberg-Holm, Michael Colligan, Michael Zerang; Eric Leonardson, Carol Genetti, Richard Curtis; Brent Gutzeit, J.Soliday

Saturday, May 27, 2006
Jon Mueller, Jim Schoenecker; Marina Peterson Trio; Brent Gutzeit, J. Soliday, Jason Ajemian, Adam Sonderberg

Friday, May 19, 2006 Bran(…)Pos; Sharkiface; Magic Missile; Crippled Insectual

Friday, May 5, 2006
Magic Carpathians; J. Soliday; Katherine Young Ensemble, Carol Genetti, Robb Drinkwater, Jason Roebke, Brian Labycz

Wednesday, May 3, 2006
Magic Mountain; The Bastard Trio; Grass Canyon; Wetcat; EaVil

Saturday, April 29, 2006
Tarantula Hill benefit — Bloodyminded; Gays in the Military; Is; Kevin Drumm; Church of Light and Sound; Adam Strohm; Vadim Spirkut; Insect Deli; I <3 Presets; Vertonen

Friday, April 21, 2006
Michael Graeve; Nathan Butler; TV Pow

Friday, April 14, 2006
Adam Sonderberg, Katherine Young; Michael Graeve; Dan St. Clair

Saturday, April 8, 2006
(A) r4WB1t5 micro.Fest — MU Collective; Mario de Vega

Saturday, March 25, 2006
J. Soliday; Is; Vertonen

Friday, March 17, 2006
Good Stuff House (Scott Tuma, Mike Weis, Matt Christensen); Fred Lonberg-Holm, J. Soliday; Brian Labycz, Jason Roebke

Saturday, March 4, 2006
Lucky 7s (Jason Adasiewicz, Jeff Albert, Josh Berman, Jeb Bishop, Matthew Golombisky, Keefe Jackson, Quin Kirchner)

Friday, March 3, 2006
Lisa Abbatomarco, Sarah Weaver, Al Margolis; Eric Leonardson

Friday, February 24, 2006
Haptic (Steven Hess, Joseph Clayton Mills, Adam Sonderberg), Nick Butcher; Jim Baker, John Berndt, Carol Genetti

Wednesday, February 15, 2006
Medium (Brent Gutzeit, Mariella Greil, Werner Mœbius, J. Soliday, Todd Carter, Brian Labycz)

Friday, February 10, 2006
Werner Mœbius, Jon Mueller, Jim Shoenecker; Werner Mœbius, Mariella Greil, Vadim Sprikut, Brian Labycz; Kevin Davis

Thursday, February 2, 2006
Vertonen; LoVid; I <3 Presets; Robb Drinkwater, Brian Labycz

Saturday, January 28, 2006
Eric Leonardson, Michael Zerang; J. Soliday, Jim Baker, Brent Gutzeit

Saturday, January 21, 2006
(A) r4WB1t5 micro.Fest — Mark Solotroff, Mike Nourse; Insect Deli, Madame Chao; Wetcat, Taeyoon Kim; fAULTY mAJICK (The Faultless, Majick Missle)

Saturday, January 14, 2006
Bloodyminded; Oscillating Innards; Climax Denial; Wilt; Death Factory; Is; DJ War Bride

Monday, January 2, 2006
Paul Giallorenzo, Steven Tod, Christian Bucher, Claudia Bucher; Civil War (Adam Sonderberg, Amy Cimini, Katherine Young); zeropoint (J. Soliday, Brian Labycz, Robb Drinkwater)


2005

Saturday, December 17, 2005
Grey Ghost (Aram Shelton, Johnathan Crawford); Wealthsource (Brian Dibblee, Frank Rosaly, Toby Summerfield); Make/Shift (Michael Hartman, Aram Shelton, Vadim Sprikut, Brian Labycz)

Wednesday, November 2, 2005
Boris Hauf, Tony Buck; J. Soliday, Todd Carter

Saturday, October 29, 2005
Lozenge; Bloodyminded as Intrinsic Action; Seepage; Magic Missile; Death Factory

Wednesday, October 26, 2005
Jason Kahn, Boris Hauf

Tuesday, October 25, 2005
Papier Mache (Bryan Day, Alex Boardman), Joseph Jaros; Yoko Sato, Luke Polipnick; Rob Drinkwater, J. Soliday, Brian Labycz

Saturday, September 17, 2005
Katrina Benefit — Mike Bullock, Vic Rawlings, Mazen Kerbaj; pineapple; Brent Gutzeit, J. Soliday, Jim Baker; Quaker A/V; Jake Elliott, Ezara Hoffman

Friday, September 16, 2005
Katrina Benefit — Dark Fog; Behold! the Living Corpse; Bloodyminded; Rotten Milk vs Bubblegum Shitface

Wednesday, August 24, 2005
AIDS Wolf (Chloe Lum, Yannick Desranleau); Carlos Giffoni; Bloodyminded; Panicsville

Monday, July 25, 2005
Mike Shiflet; Jason Zeh; zeropoint, Jesse Kudler; LSD (Labycz, Vadim Sprikut)




BACK to projects